News
Jan. 17, 2012 | Sten
Ride Greener Video Contest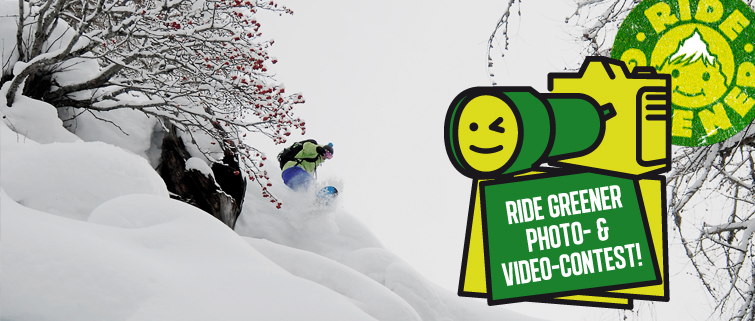 RIDE GREENER has launched a big video competition and you can win a brand new eco snowboard from Völkl Snowboards! Show us with what you come up with and prove how you put your plan to snowboard/ski in an eco-friendly way into reality. Join in our video contest and send us your best, craziest, nicest, fluffiest moment in the snow. It goes without saying that you do it in an eco-friendly way.
We're gonna post your video on our website www.ridegreener.com. On one hand you're getting judged by the RIDE GREENER jury and on the other hand by the numbers of "I like" clicks on your entry. Send us your video as soon as possible and mobilize all of your friends!
Film your head off and cut the clip of your life. Upload the video (+/- 90 seconds) on vimeo or YouTube. Send us an e-mail until 14. April 2012 to info@ridegreener.com with the reference «Video-Contest», the web link, where we can find your video, your complete address as well as your date of birth and you are in! First price is a Cashew or Yavanna snowboard from Völkl Snowboards.
Entry conditions: Eligible are all persons domiciled in Europe. Winners will be informed in written. No cash payment. No correspondance will be made. Any recourse to courts of law is excluded. RIDE GREENER will publish the best videos. 
You can Win a brand new Cashew Völkl Eco Snowboard